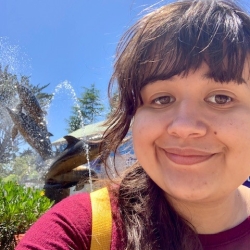 Former ASC History Department
Phone: (415) 338-1604
Email: history@sfsu.edu
Location: Science Building Room 276
I was trained in Classics at UC Davis and received my B.A in Languages and Literatures at UC Davis. I primarily focused on emotion, gender roles, sex, and bodies in Hellenistic literature, working primarily with Sophocles and his work Philoctetes. I have done translation work in Latin, Greek, French and Arabic and lean heavily towards cultural representations of images and language in creating the constructs of gender, science and sexuality. I wanted to by being in Classics work closer with untranslated texts in order to add my own insight to the way the culture functioned through language.
I finished a Master's at San Francisco State in 2019 where I focused on Medieval and Early Modern Europe where I focus on Performative Gender, Sodomy Laws and Muslim and Christian Interactions through Science during the 11th-13th century.
I am currently in the Master's of Arts in Comparative World Literature for a second Master's Degree.
EDUCATION
M.A. History, San Francisco State University, 2019
Concentration in Medieval History
B.A. Classics emphasizing Langauges and Literatures, University of California Davis, 2017
Minor History with Concentrations Medieval Europe