Our undergraduate program trains students in the methods of history and provides a solid basis for students to go on to graduate programs in history or to careers in a variety of fields. We oversee the social science subject matter competence program that will qualify students to apply to secondary education credential programs in the social sciences.
Students interested in the graduate study of history will be happy to learn of the excellence of our M.A. program. A recent survey by the American Historical Association has noted that more of our M.A. students go on to Ph.D.programs than from any other stand-alone M.A. program in the nation. Students may specialize in the fields of U.S. history, European history before 1500, European history since 1500, Latin American history, and Gender in history. In addition, the recently adopted concentration in Modern World history gives our students an opportunity to study an important emerging field of history. Students interested in applying to our graduate program should review the SFSU graduate application procedures as well as the History Department Graduate Program website.
Our department also has a number of ways for students to be involved outside of the classroom: Ex Post Facto, the annual journal of SFSU history students, offers students a chance to have their work published, and, in addition, students may act as editors for experience and credits. The History Students Association organizes events for students throughout the year including a student forum where history students may present work to mentors and peers. Every spring we are proud to recognize the excellence of our students by inviting qualified students to join Phi Alpha Theta, the national honor society in history. Our students are also recognized at the annual honors banquet held just before spring graduation every year.
Faculty Profile:
New Releases from SFSU professors:
In Aid Under Fire, Jessica Elkind examines US nation-building efforts in the fledgling South Vietnamese state during the decade preceding the full-scale ground war. Based on American and Vietnamese archival sources as well as on interviews with numerous aid workers, this study vividly demonstrates how civilians from the official US aid agency as well as several nongovernmental organizations implemented nearly every component of nonmilitary assistance given to South Vietnam during this period, including public and police administration, agricultural development, education, and public health. However, despite the sincerity of American efforts, most Vietnamese citizens understood US-sponsored programs to be little more than a continuation of previous attempts by foreign powers to dominate their homeland.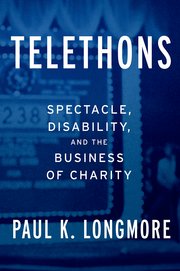 We are pleased to announce that Dr. Cathy Kudlick has sucessfully sheparded  Dr. Paul K. Longmore's posthumous work, Telethons:Spectacle, Disability, and the Business of Charity  through publication with Oxford University Press.
Drawing upon two decades of painstaking research, Longmore's book provides the first cultural history of a fundraising form that became a fixture of American life. The Paul K. Longmore Institute on Disability continues his work.
The latest articles:
"The Supreme Court Nomination and the Politics of Checks and Balances" Excerpt: As the US public waits to find out whom President Obama will nominate to be the next associate justice of the Supreme Court, it may be helpful to consider what we have learned and not learned in the last few weeks about the history and politics of presidential appointments. 
 "Who Is the Real Progressive: Hillary Clinton or Bernie Sanders? Four historians consider how the Democratic candidates fit within the history of the Progressive tradition."  Excerpt:  Earlier this month the social media teams for the two Democratic presidential candidates got into a heated—if not quite illuminating—spat on Twitter and Facebook about the meaning of progressivism. 
 "The Future of Work: The Coming Political Storms"  Excerpt:  The nature of work, we are told, is being transformed by technology. As the authors of the Second Machine Age explain: "[T]here's never been a worse time to be a worker with only 'ordinary' skills and abilities to offer, because computers, robots, and other digital technologies are acquiring these skills and abilities at an extraordinary rate."
"The 2016 Presidential Campaign: The Past and Present of American Tolerance and Intolerance" Excerpt: American presidential politics are in the midst of a strikingly ecumenical, if not interfaith, moment. Both parties are fielding primary candidates with widely divergent spiritual commitments...At least to this point, and at least in public, the campaigns have taken this diversity of belief and unbelief in stride; acceptance of religious difference almost seems like the new normal of presidential politics. But, in this same moment, Republican candidates have waded deep into the weeds of anti-Muslim prejudice and bigotry. 
"If Trump and Sanders Are Both Populists, What Does Populist Mean?"  Excerpt: The headlines tell us that the political campaigns of Donald Trump and Bernie Sanders have opened a new chapter of populist politics. A reporter at the Los Angeles Times writes on "the populist sentiment fueling both the Bernie Sanders and Donald Trump campaigns." A pundit at the National Review asks if Sanders and Trump are "two populist peas in a pod?" and answers in the affirmative. 
Finding Work in the Field of History
An outline of possible careers for students with a background in history.
A website dedicated to the world beyond the Academe for historians.