Our undergraduate program trains students in the methods of history and provides a solid basis for students to go on to graduate programs in history or to careers in a variety of fields. 
Students interested in the graduate study of history will be happy to learn of the excellence of our M.A. program. A recent survey by the American Historical Association has noted that more of our M.A. students go on to Ph.D.programs than from any other stand-alone M.A. program in the nation. Students may specialize in the fields of U.S. history, European history before 1500, European history since 1500, Latin American history, and Gender in history. In addition, the recently adopted concentration in Modern World history gives our students an opportunity to study an important emerging field of history. Students interested in applying to our graduate program should review the SFSU graduate application procedures as well as the History Department Graduate Program website.
Our department also has a number of ways for students to be involved outside of the classroom: Ex Post Facto, the annual journal of SFSU history students, offers students a chance to have their work published, and, in addition, students may act as editors for experience and credits. The History Students Association organizes events for students throughout the year including a student forum where history students may present work to mentors and peers. Every spring we are proud to recognize the excellence of our students by inviting qualified students to join Phi Alpha Theta, the national honor society in history. Our students are also recognized at the annual honors banquet held just before spring graduation every year.
Spring 2017 Course Catalog is available HERE.  We would also like to invite you to take advantage of our advising services to make sure you are on track to graduate.  You can make an appointment by emailing history@sfsu.edu
Congratulations to Dr. Karen Morrison whose book Cuba's Racial Crucible has just been awarded 
the  Marysa Navarro Best Book Prize. 
History MA alum Christina Moretta  featured in the San Francisco Chronicle!
To read about her job as an archivst at the San Francisco Public Library, click here.
Faculty Profile:
New Releases from SFSU professors:
In Aid Under Fire, Jessica Elkind examines US nation-building efforts in the fledgling South Vietnamese state during the decade preceding the full-scale ground war. Based on American and Vietnamese archival sources as well as on interviews with numerous aid workers, this study vividly demonstrates how civilians from the official US aid agency as well as several nongovernmental organizations implemented nearly every component of nonmilitary assistance given to South Vietnam during this period, including public and police administration, agricultural development, education, and public health. However, despite the sincerity of American efforts, most Vietnamese citizens understood US-sponsored programs to be little more than a continuation of previous attempts by foreign powers to dominate their homeland.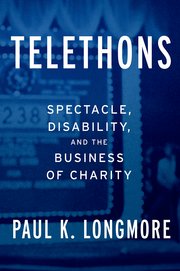 We are pleased to announce that Dr. Cathy Kudlick has successfully shepherded  Dr. Paul K. Longmore's posthumous work, Telethons:Spectacle, Disability, and the Business of Charity  through publication with Oxford University Press.
Drawing upon two decades of painstaking research, Longmore's book provides the first cultural history of a fundraising form that became a fixture of American life. The Paul K. Longmore Institute on Disability continues his work.
Finding Work in the Field of History
A website dedicated to the world beyond the Academe for historians.