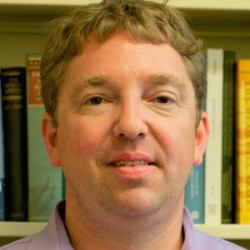 Dennis Campbell
Associate Professor
Phone: (415) 338-1317
Email: drcampbe@sfsu.edu
Location: Humanities Building Room 262
Office Hours:
Mon:
7:00 a.m. - 8:00 a.m., 11:00 a.m. - 1:00 p.m.
in person
Wed:
7:00 a.m. - 8:00 a.m.
, in person
My area of research is in the history and languages of the ancient Near East. My primary specialization is in the Hittites (ancient Anatolia/Turkey), the Hurrians (northern Mesopotamia, Syria, southeastern Anatolia) and the Urartians (eastern Anatolia). I have also been heavily involved with administrative material written in Elamite from the Achaemenid (Old Persian) period. My teaching interests cover the breadth of the ancient world.  I teach courses on the history of the ancient Near East, Greece and Rome. My publications have explored philological topics on the Hurrian language as well as historical research on the Hittites, Hurrians and their place in the ancient world.
Education
Ph.D., University of Chicago, 2007
M.A., University of Chicago, 2007
B.A., University of Pennsylvania, 1998
Courses Recently Taught
Spring 2021
HIST 0322 – Roman Republic
HIST 0329 – Early Christian Church, 313‐787
HIST 0339 – Pirates and Piracy
Fall 2021
HIST 0300 – Seminar in Historical Analysis
HIST 0310 – Cities and Empires in Mesopotamia
HIST 0328 – Pagans and Christians
Courses Taught
HIST 114 World History to 1500
HIST 300 Seminar in Historical Analysis
HIST 310 Ancient Near East: Cities and Empires in Mesopotamia
HIST 311 Ancient Mediterranean World in Transition: c. 1600‐700 BC
HIST 320 Archaic and Classical Greece
HIST 321 Hellinistic Greece
HIST 322 Roman Republic
HIST 323 Imperial Rome
HIST 328 Early Church to 313
HIST 329 Early Church 313-787
HIST 339 Pirates and Piracy
HIST 640 Proseminar: Roman Empire
HIST 640 Proseminar: Ancient Sexuality: From Egypt to Rome
HIST 705 Graduate Seminar: Approaches to History
HIST 710 Graduate Seminar: Fall of Rome
HIST 710 Graduate Seminar: Imperial Collapse
Independent Study: Cuneiform, Hurrians and Hittites; Ancient EMpires
Research Interests
Ancient History
Philology
Religion
Development of Writing
Gender and Sexuality
Pirates