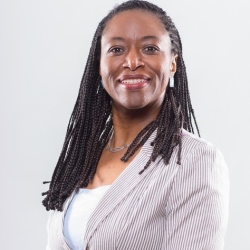 Karen "Kym" Morrison
Associate Professor and Assistant Dean of College of Ethnic Studies
Phone: (415) 338-7561
Email: kymorris@sfsu.edu
Location: Humanities Building Room 257
Office Hours:
Mon:
2:00 pm - 3:00 pm
in person or by Zoom Appointment
Wed:
2:00 pm - 3:00 pm
in person or by Zoom Appointment
I am a social historian of Latin America and the African diaspora. Before coming to San Francisco State, I taught at the University of Massachusetts Amherst and at Moravian College, in Bethlehem, Pennsylvania. My research explores the interactions between global and local racial-formation processes as they relate to African descendent people and communities. Before turning to an academic career, I earned a degree in electrical engineering at Duke University and then worked for a few years in military weapons systems development. A realization that advanced technical training often lacked a connection to social justice and social ethics prompted my career shift. I now teach so as to inspire college students to have positive views on diversity and social difference. I was a Fulbright Research Scholar in Brazil for the 2015-2016 academic year. There I began a second monograph project, which explores the connections between black pride, racial hybridity and whitening in post-abolition Rio de Janeiro.
Research Interests
Racial Formations among Afro-Latin American populations, especially those in Brazil and Cuba
Forms of black female power in non-traditional political settings
Black intellectual history in various locations within the African Diaspora
Selected Publications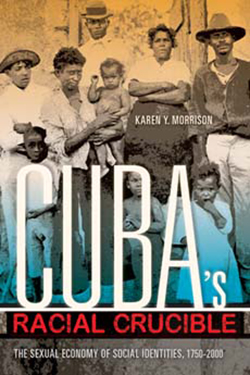 Cuba's Racial Crucible: The Sexual Economy of Social Identities, 1750-2000 (Indiana University Press, 2015). Winner of the 2016 Northeast Council on Latin American Studies Marysa Navarro Best Book Prize that describes it as "a transformative volume in Latin American
Studies...Morrison moves us miles beyond facile accounts of mestizaje that too often characterize post-colonial histories."
"Afro-Latina Writers and the Historical Complexities of Reproducing Race" forthcoming in the journal Meridians.
"'Whitening' Revisited: Nineteenth-Century Cuban Counterpoints," in Africans into Spanish America: Expanding the Diaspora, eds. Sherwin Bryant, Rachel O'Toole, and Ben Vinson (Urbana: University of Illinois Press, 2012).
 "White Fathers and Slave Mothers in Nineteenth-Century Cuba Defining Family and Social Status," Slavery & Abolition 31 (March 2010): 29-55