Each year, we award the Kyle Campbell Whitham McLeod Scholarship in Latin American History to a continuing student with an interest in Latin American History, in memory of Kyle McLeod, a former History major at SF State.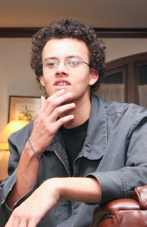 Cynthia Whitham and Gearey McLeod: "Our family launched the Kyle Whitham McLeod Scholarship Fund just a few months after his untimely death. We wanted to transform the very worst moment in our lives into something that Kyle would be proud of. His undergraduate years as a Latin American History major at San Francisco State instilled in Kyle a profound concern for fellow students forced to leave school not because of academic challenges, but because of financial hardships. Even a modest scholarship can forestall having to postpone—or end—their pursuit of a degree. To date, the scholarship has awarded scholarships to over a dozen SFSU students. Their stories are invariably inspiring.
We feel that there is no better way to honor Kyle than to help other young men and women who love history, Latin America, and are sensitive to the struggles of people of color, earn their degree at San Francisco State University."
Recipient: Diego Romo
Kyle Campbell Whitham McLeod Scholarship in Latin American History
The History Department is pleased to announce Diego Romo as the 2020-2021 recipient of the Kyle Whitham McLeod Scholarship.
Diego is entering his senior year, after transferring to State last year from Reedley College, outside of Fresno. At Reedley, Diego expressed an interest in History and Political Science. Here at State, Diego has engaged more fully in Latin American and Californian histories, taking course on colonial Latin America and Mexico. He also interned at the Sutro Library Archives as a translator of colonial Spanish documents and completed his GWAR research project on the food ways of Californian Indians in their 19th-century contact with Spaniards and U.S. Americans.
We hope the Kyle Whitham McLeod Scholarship encourages Diego's continued enthusiasm for Latin American history.