This is the first year that we are awarding the Lily B. Ponce de Leon Endowed Scholarship in History, in memory of Lily Beatriz Venables Ponce de Leon (1926 – 2019). The scholarship has been generously established by her son, Prof. Charles Ponce de Leon (History, Cal State Long Beach), and her daughter-in-law, Lynn Mahoney, SF State's 14th president.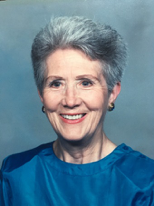 Lily was raised in Oruro, Bolivia, and in Santiago, Chile. The daughter of a British mining engineer and a Bolivian, she was educated at schools that taught in English and Spanish. In 1953, she married Dr. Carlos Ponce de Leon, a Bolivian dentist. After years of effort, they emigrated to the U.S., where their only child, Charles, was born. As is true for many immigrants, moving to the U.S. required Lily and Carlos to adapt and reinvent themselves. With her husband unable to practice dentistry, Lily was compelled to enter the workforce in the mid-1960's. She worked for more than thirty years as a dental assistant and office manager for a periodontal practice, gradually assuming the role of primary breadwinner. Lily was a wonderful mother who welcomed her daughter-in-law as a daughter and enriched her grandchildren's lives in many ways. Her home became a regular spring break and summer outpost for her family. Lily lived in the Bay Area for more than 50 years. A memorial scholarship in her name at San Francisco State, a university with a proud tradition of educating immigrants and their children, also pays homage to the region she called home.
Recipient: Yanira Elena Villafan
Lily B. Ponce de Leon Endowed Scholarship in History
The inaugural recipient of the Lily B. Ponce de Leon Endowed Scholarship in History is Yanira Elena Villafan.
Yanira is from the Central Valley and a first-generation college student. In her scholarship statement, she described her time at San Francisco State as a journey from insecurity and lack of direction to success. One measure of her success is that she has made Dean's List for the past three semesters. She is interested in History and Law, and credits a former teacher with kindling her interest in Civil War and Reconstruction History.
Yanira is a dedicated student, who wrote a fascinating HIST 300 paper on the March 1968 high school student walkouts in East Los Angeles (also known as the Chicano Blowouts), in which Chicano/a students protested racial discrimination and lack of resources in the public schools. A tireless researcher, Yanira uncovered oral history interviews, memoirs, mainstream press accounts, and community newspaper articles that shed light on this important episode in social justice organizing, one that has not yet been well-studied by historians. She focused her argument on the conditions that led to the walkout: schools in disrepair and without educational materials, a dearth of educational opportunities to prepare students for college admissions, and cultural biases on the part of many teachers that contributed to stereotypical, lack of encouragement, and corporal punishment.
We are delighted to announce Yanira Elena Villafan as the inaugural winner of the Lily B. Ponce de Leon Scholarship – she is a very worthy recipient!