New Release From Emeritus Robert W. Cherny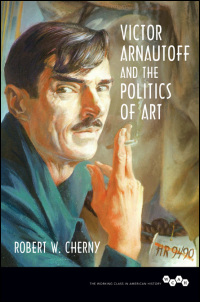 Victor Arnautoff and the Politics of Art by San Francisco State University's Emeritus Robert W. Cherny is now available.
A leading West Coast modernist, Victor Arnautoff reigned as San Francisco's leading mural painter during the New Deal era. Yet that was only part of an astonishing life journey from Tsarist officer to leftist painter that reflected a century of tumult in politics and art.
Robert W. Cherny's masterful biography of Arnautoff braids the artist's work with his increasingly leftist politics and the tenor of his times. Delving into sources on Russian émigrés and San Francisco's arts communities, Cherny traces Arnautoff's life from refugee art student and assistant to Diego Rivera to prominence in the New Deal's art projects and a faculty position at Stanford University. As Arnautoff's politics moved left, he often incorporated working people and people of color intohis treatment of the American past and present. In the 1950s, however, his participation in leftist organizations and a highly critical cartoon of Richard Nixon landed him before the House Un-American Activities Committee and led to calls for his dismissal from Stanford. Arnautoff eventually departed America, a refugee of another kind, now fleeing personal loss and the disintegration of the left-labor culture that had nurtured him, before resuming his artistic career in the Soviet Union that he had fought in his youth to destroy.