The Passing of Dr. Dawn Bohulano Mabalon
It is with great sadness that the family of Dawn Bohulano Mabalon announces her sudden death on August 10, 2018 in Kauai, Hawaii while on vacation with her family. Her unexpected passing is a great loss for all of us, as she gave the world to her family, friends, and communities. Dawn was a respected historian, author, filmmaker, poet, chef and baker, community leader, and activist who leaves us with an important and far-reaching legacy, grounded in love for the Filipina/o American community, and extending beyond it. Dawn Bohulano Mabalon will always be in the hearts of her family, friends, and the many communities and generations she touched.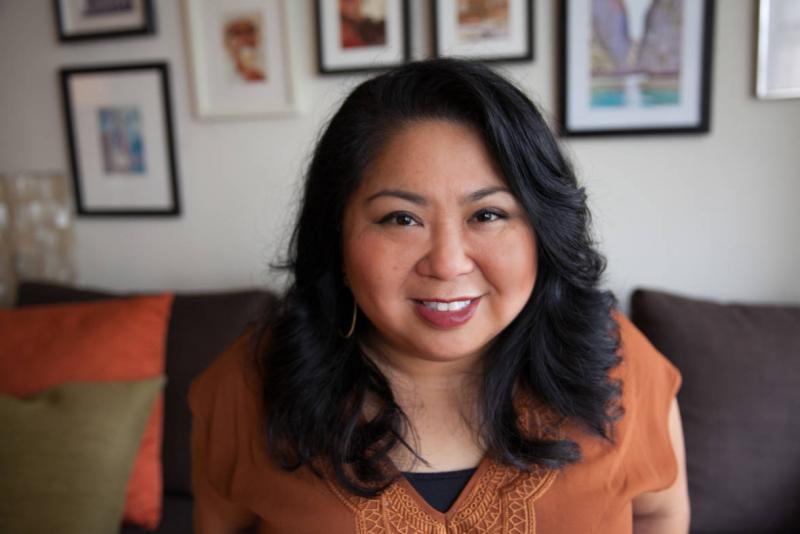 Dawn Bohulano Mabalon
August 17, 1972 - August 10, 2018
For her focus on Filipina/o Americans, Dr. Dawn Bohulano Mabalon is well-known as the premiere historian of her generation. An Associate Professor with tenure in the Department of History at San Francisco State University, Dr. Mabalon is a third generation Pinay born in Stockton, California in 1972. Raised on the South Side in a close-knit, large, and loving Filipina/o American family, she attended Hazelton, Hoover, and Marshall. She was a member of Edison High's Class of 1990, where she presided as editor of the Hi-Lite, president of the Asian Club, and member of Student Council and Asilomar. She attended San Joaquin Delta College, where she edited the student newspaper, The Impact. While at Delta, she worked as a part-time writer for the features section of The Stockton Record. In 1991, she was also a guest editor-in-chief of Sassy, the national magazine for young women. She transferred to UCLA in 1992, where she wrote for the UCLA Daily Bruin newspaper and served as Director of the Samahang Pilipino Education and Retention Project (SPEAR) in 1994.  In 1995, Dawn and her closest friend, Allyson Tintiangco-Cubales started the first ethnic organization for transfer students, Pilipino Transfer Student Partnership which is currently still very active at UCLA.  Dawn and Allyson became lifelong friends and continued to research, organize, and write together as faculty colleagues at SFSU. One of their most read pieces was a spoken word poem they wrote together entitled, "Resistance and Struggle are Sisters" which was inspired by their bond.
Professor Mabalon received her B.A. in History with a specialization in Asian American Studies, magna cum, laude, in 1994, and her M.A. in Asian American Studies, in 1997, both from UCLA. At UCLA, Dr. Mabalon took her first Filipina/o American studies course that sparked her lifelong love and activism for justice. She became a student leader and fierce advocate for marginalized communities within and beyond the university. In Los Angeles, she became well-known as a powerful spoken word poet. Her creative voice directly aligned with her rigorous scholarship. It was also at UCLA, where she co-produced the documentary, "Beats, Rhymes, and Resistance:  Filipinos in Hip Hop in Los Angeles." Her indefatigable research and energetic creative activity addressed race and racism, gender, community displacement, youth organizing and more---with passion, laughter, commitment, generosity and spirit.
In 1997, she moved back to the Bay Area when she accepted a fellowship to complete a Ph.D. in American History at Stanford University. She joined Stanford at a time of particular vibrancy among graduates of color studying race in America and was an important part of the graduate community. She was well-known for her commitment to community-based history and her strengths in gender and ethnicity, her energy and humor within the social community, but also in her support for and solidarity with other graduate students. In 2004, Dr. Mabalon joined the faculty of the Department of History at San Francisco State University. Professor Mabalon's students loved her classes where they not only learned to love history but they came to love learning. Through her dynamic lectures and interactive discussions, through her witty humor and commentary, and through the times that she would cook and bake for her students, she touched their hearts and their stomachs. Community members who enjoyed her famous biko and ube cupcakes remember the tastes and describe in detail the delicious experience of eating her cooking and baking. A beloved colleague, teacher and mentor, her research and teaching interests included Filipina/o American history, oral history, urban history, immigration, women and gender, cultural memory and historic and cultural preservation, and American and Filipina/o American foodways. She devoted her moving voice, incisive writing and historical training and expertise to documenting, theorizing, and teaching Filipina/o Americans. For nearly two decades, in partnership with her kumare Allyson Tintiangco-Cubales, she also conducted public school teacher training in Filipina/o American/Asian American Studies, Ethnic Studies and United States history for public school teachers in San Francisco and Stockton, and for Pin@y Educational Partnerships (PEP). Dawn was known to be the ninang of PEP.
Dawn Bohulano Mabalon is believed to be the first Pinay to earn a Ph.D. in American History from Stanford University. Her dissertation eventually became the award winning book published by Duke University Press, Little Manila is in the Heart: The Making of the Filipina/o American Community in Stockton, California, now in its 6th printing. The book examines the rich and vibrant Filipina/o American community in Stockton, California over the course of almost a century, arguing that these immigrants and their descendants created a unique Filipina/o American ethnic identity and how community members struggled over class divisions, leadership roles, language, cultural identity, gender roles, religion, and ideas about citizenship, nationalism, labor, and political power. The book contributes to our understandings of how racial ethnic communities struggle over identities, place and space, power and resources, both within and outside of the community. In a recent interview for the documentary The Celine Archive, on which she was a collaborator, Dr. Mabalon says of her book, "It really was a love letter to my family, to my community, to my elders and really putting my hometown on the proverbial Filipino American map. I had always believed and many of the elders believed that Stockton was Filipino America's hometown. Yet, nobody had been able to write a book about Stockton or go to a university and get an advanced degree and study Stockton and study our community. So I really felt it was a huge responsibility as well as a huge blessing to be able to take what I had always wanted to do, which was to write stories and to tell people stories and to be able to do that for my family, for my community."
It is my hope that the love, respect, and commitment we feel for our historic community runs deeper than anything that can divide us.  Little Manila will always be in our hearts.
— Dawn Bohulano Mabalon, Little Manila is in the Heart
Her poetry, articles and curriculum in Filipina/o American history and studies are published widely in books, anthologies, and journals including Tomorrow's Memories: The Diary of Angeles Monrayo (2003), Coming Home to a Landscape: Writings by Filipinas (2003), Pinay Power: Pilipina Peminist Theory (2006), Positively No Filipinos Allowed (2006), in both volumes of the Pin@y Educational Partnerships: A Filipina/o American Sourcebook (2007), Empire of Funk (2013), Eating Asian America (2013), and AAPI Nexus (2016). She is a co-author of Filipinos in Stockton (2008) and Filipinos in San Francisco (2011), both books of historic photos and mini-essays (Arcadia Publishing). Several articles and books are currently in press including works on Filipina women and foodways. She also leaves us with a beautiful historic book for youth entitled Journey for Justice:  The Life of Larry Itliong co-written with Gayle Romasanta and iIlustrated by Andre Sibayan. This is the first children's book on Filipino American history and the first about Larry Itliong, the co-founder of the United Farm Workers, which will be in print October 2018. On KQED Public Radio, she very movingly spoke about the importance of knowing Larry Itliong: "My grandparents were farm workers. My dad was a farm worker. He knew Larry Itliong. And I didn't even know who Larry Itliong was until I went to college. Now I'm going to cry. Now I'm crying. You know, what a tragedy. I knew who Cesar Chavez was. We had a Cesar Chavez Library. But, you know, I think it's such a tragedy that that so many young Filipino Americans grew up without knowing  the central, pivotal role that we've played in American history." At the time of her death, she was also working on an in-depth biography of Larry Itliong.
In addition to her scholarly and creative endeavors, Dawn Mabalon worked extensively in the Filipina/o American community, particularly in its preservation and knowledge dissemination to the larger public not only in community events, festivals, conferences, symposia, and written public statements, but as a frequently featured expert on public radio and documentaries. She was a tireless advocate for saving Little Manila in co-founding the Little Manila Foundation, an organization which describes their story as follows: "In 1999, when two newly graduated college students, Dawn Mabalon and Dillon Delvo, returned to Stockton after learning about the significance of their hometown to Filipino American history, they literally found demolition equipment in front of buildings of what remained of the Little Manila community, the largest population of Filipinos in the world outside of the Philippines from the 1920's to the 1960's. They figured that someone should do something about this, so they started the Little Manila Foundation." As co-founder and board member of the Little Manila Foundation, she continued to work for the preservation and revitalization of the Little Manila Historic Site in Stockton. Through her visionary work and leadership they saved the historic buildings of Little Manila from demolition in 2003 and she inspires a generation of youth in her hometown who will continue her legacy. The Little Manila Foundation (Little Manila Rising) has received many awards and accolades for its innovative preservation work, such as in the recognition for her role in amplifying the community's history through the hip hop group Black Eyed Peas' BEBOT music videos. Empowered by Dr. Mabalon's activism and research of their hometown, Little Manila Rising's students fought for Ethnic Studies to be institutionalized in Stockton Unified School District's high schools and won!
As the National Scholar of the Filipino American National Historical Society, Dr. Mabalon was an award-winning national and global advocate of Filipino American history. Dillon Delvo, on KQED's The California Report, shared that on her birthday, August 17, 2018: "She was supposed to present to the Commission on Civil Rights in Washington, D.C. She brought our people to the table. She forced herself in, brought in her own chair, put it in the middle of the table, and said 'We're here.'" She was an important member of various organizations including the Stockton Chapter and the national board of Trustees of the Filipino American National Historical Society (FANHS). She served as the board president of Pin@y Educational Partnerships and as an advisory member of the Manilatown Heritage Foundation. She received the Distinguished Young Alumnus award from the UCLA Pilipino Alumni Association in 2003 and the Community Service Award from Filipinas Magazine in 2004 and from the community organization Legionarios del Trabajo in 2005.  In 2013, Dr. Mabalon was named one of the 100 Most Influential Filipinas in the world by the Filipino Women's Network. In 2014, her book Little Manila is in the Heart won Honorable Mention for the Frederick Jackson Turner Award. She also received the Community Service Award from Asians and Pacific Islanders in Historic Preservation in 2016 and the Mid-Career Award from the Filipino Section of the Asian American Studies Association in 2018.
In Dr. Dawn Bohulano Mabalon's last statement, she wrote, "I am an historian dedicated to building bridges between the communities about whom I write (Filipino Americans, Asian Americans, immigrants, workers) and the academy. I have devoted my life's work to sharing the stories of people and communities at the margins of the American story…With the humanities and history disciplines under attack, there is no better time to strengthen the work we do as professional historians." Dr. Dawn Bohulano Mabalon accomplished a great deal in her life too abruptly cut, and maintained a robust agenda until her death, leaving us with a legacy of bridges that we must continue to build. She will forever be remembered for the love for Filipina/o America that guided her work and her life. She said, "I also feel the hurt of a generation. It's our story, and it demands our love, and attention and respect, and we need to tell this story."
Dawn Bohulano Mabalon loved her family with so much heart. She is survived by her "mahal," her husband of nearly 10 years, Jesus Perez Gonzales whom she loved deeply; her sister Darleen Bohulano Mabalon who calls her caring older sister "manang"; her godchild Tayondee Kelley, niece Nonaiya Kelley, and nephew Cayden Kelley; her mom Christine Bohulano Bloch who longs for her pride-worthy daughter; her uncle Delfin Bohulano, Jr. (wife, Wendy), aunts Virginia Bohulano, Adeline Bohulano Suguitan (husband, Mel), and her uncle Tex Mabalon, Sr. - together with her large family of cousins, nieces, godchildren, godparents and a whole generation of Filipina/o Americans. Dawn is remembered as "Auntie Ninang" or "Ninang Dawn" in how she mothered her inaanak and all children around her like they were her own, including Mahalaya Tintiangco-Cubales whom she helped raise. Preceding her in death are her grandparents Delfin Paderes Bohulano and Concepcion Paloma Moreno Bohulano; her aunt Florencia Mabalon Pastrana, her father Ernesto Tirona Mabalon, and grandparents Pablo Macavinta Mabalon and Isabel Timtiman Tirona Mabalon. Of the Mabalon family and her ancestors, "five generations deep" in the United States, Dawn writes: "We are all the seeds they planted in America, now almost 100 of us, flourishing because of their sacrifices."
We hope you can join us in the celebrations of Dawn Bohulano Mabalon's life in Stockton, San Francisco and Los Angeles, California. The first memorial viewing, rosary, mass and procession for Dawn will take place in Stockton on August 23-24, 2018.