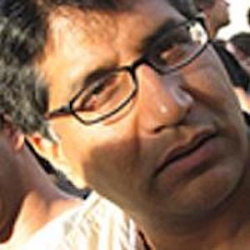 Christopher Chekuri
Associate Professor
Phone: (415) 338-7541
Email: cchekuri@sfsu.edu
Location: Humanities Building Room 239
Office Hours:
Tue:
5:00 p.m. - 6:00 p.m.
Thu:
5:00 p.m. - 6:00 p.m.
My research interests include the study of states and families, early modern empires in the Indo-Islamic World, comparative colonialisms and nationalisms, modern Telugu literary criticism and globalization.
Education
Ph.D., University of Wisconsin-Madison, 2005
Courses Recently Taught
Undergraduate:
India and the British Empire
India since Gandhi
Classical Forms of South Asian Culture
The University: Promise and Politics
Graduate:
Decolonizing History
History beyond Nation
Historiography of World History
Research Interests
Politics of empire in precolonial India
Identity and cultural modernity in Telugu literature
Selected Publications
Books:
Book Manuscripts under preparation:
The Men Who Would Be King: The Nayakas of Vijayanagara, 1480-1620.
A translation with critical commentary of the Tanjavuri Andhra Rajula Charitra, a 17th century Telugu court chronicle produced in Tanjavur, India.