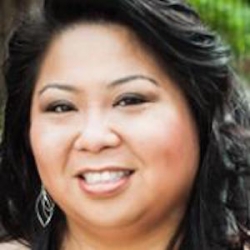 Dawn Bohulano Mabalon
Emeritus Professor
Professor Emeritus 2020
Dawn Bohulano Mabalon was born and raised in Stockton, California.
Her teaching and research interests include race and ethnicity, 20th century U.S., California and the West, Asian American History/Studies, Philippine and Filipina/o American history, gender, community and family history, immigration, youth cultures, urban history, cultural and historic preservation in ethnic communities, food cultures and foodways.
EDUCATION
Stanford University, Ph.D. in History; awarded January 2004; Advisers: Dr. Gordon Chang, Dr. Albert Camarillo, Dr. Anthony Antonio Dissertation: Life in Little Manila: Filipinas/os in Stockton, California, 1917-1972
University of California, Los Angeles. M.A., Asian American Studies, 1997; Thesis: Filipina Pioneers: The Pinay In Stockton, California, 1929-1946 B.A., Magna Cum Laude in History, specialization in Asian American Studies, 1994
COURSES RECENTLY TAUGHT
Undergraduate:
History 121, U.S. After 1877
History 428, U.S. After 1945
History 455, The Philippines and the United States
History 464, American Race and Ethnic Relations, 1740-1890
History 465, American Race and Ethnic Relations, 1890-Present History
642, Historical Perspectives on Culture, Identity and Food History
642, Bay Area Social Justice Movements History
300, Undergraduate Seminar in Historical Methods and Analysis
Graduate:
History 790, Graduate Seminar in Race and Ethnicity in the U.S., 20th Century
RESEARCH INTERESTS
20th Century U.S.
U.S. empire in the Philippines
Filipina/o American and Asian American History
History of American foodways
SELECTED PUBLICATIONS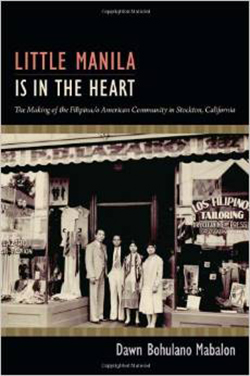 Books:
Little Manila Is in the Heart: The Making of the Filipina/o American Community in Stockton, Calif.(Duke University Press, 2013).
Filipinos in Stockton (Arcadia Publishing, 2008). Mabalon, Dawn Bohulano, with Ricardo J. Reyes, the Stockton Chapter of the Filipino American National Historical Society, and the Little Manila Foundation.
Co-editor, Filipinos in San Francisco (Arcadia Publishing, 2011). Member of editorial board with Allyson Tintiangco-Cubales, Estella Habal, Evelyn Luluquisen, Dan Gonzalez, Oscar Peñaranda, Emil de Guzman, and Roy Recio.
Articles:
"As American as Jackrabbit Adobo: Cooking, Eating and Becoming Filipina/o American Before World War II," in Eating Asian America (New York University Press, 2013)
"Carlos Bulosan: The Stockton Connection," in Asian Pacific American News and Review, Stockton/Sacramento, Sept-Oct. issue, 2008.
 "Teaching The Romance of Magno Rubio: A Curriculum and Resource Guide for Teachers at All Levels." with Allyson Tintiangco-Cubales and Liza Erpelo,September, 2008. Distributed amongst Northern California educators.
"Selected Resources for Teaching Filipina/o American Studies" with Allyson Tintiangco-Cubales Pin@y Educational Partnerships, ed. Allyson Tintiangco-Cubales. Manila and San Francisco: Phoenix Books, November, 2007.
 "A Timeline of Filipino American History, 1587-2005" in Pin@y Educational Partnerships, ed. Allyson Tintiangco-Cubales. Manila and San Francisco: Phoenix Books, November, 2007.
 "Losing Little Manila: Race and Redevelopment in Filipina/o Stockton, California," in Antonio Tiongson and Ed Gutierrez, ed., Positively No Filipinos Allowed (Philadelphia: Temple University Press, 2006).
"Beauty Queens, Bomber Pilots and Basketball Players: Second Generation Filipinas," in Pinay Power: Peminist Critical Theory, edited by Melinda de Jesus. (New York: Routledge, 2005). 
"Writing Angeles Monrayo Into the Pages of Pinay History," in Tomorrow's Memories: The Diaries of Angeles Monrayo, edited by Rizaline Raymundo. (Honolulu: University of Hawaii Press, 2003).
SELECTED AWARDS
2008 Captain Charles M. Weber Award Recipient (with the Little Manila Foundation). Recognizes organizations or individuals who have done extraordinary volunteer work in celebrating the history of the city of Stockton and its collective cultural heritage; named after the founder of the city.
Ford Foundation Postdoctoral Fellowship for Excellence in College and University Teaching, 2007-2008, administered by the National Academies.
San Francisco State University Presidential Professional Development Award, sabbatical for Fall 2007. 
President's Award for Excellence in Historic Preservation(with the Little Manila Foundation), California Preservation Foundation. For work in historic preservation with the Little Manila Foundation, for the Black Eyed Peas video for "Bebot." Awarded at the annual conference in Los Angeles, April, 2007.
Filipinas Magazine Achievement Award for Community Service, 2004 Awarded annually by the nation's only magazine dedicated to Filipina/o American issues.
OTHER LINKS