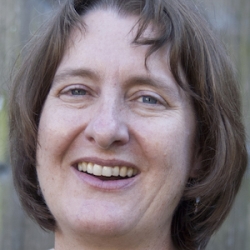 Sarah Curtis
Professor and Graduate Coordinator
Phone: (415) 338-2250
Email: scurtis@sfsu.edu
Location: Humanities Building Room 253
Office Hours:
Tue:
1:30 p.m. - 3:00 p.m.
W/R by appointment
I am a historian of nineteenth-century France, especially interested in social, cultural, religious, and gender history in both metropolitan France and the wider French empire. My first book, Educating the Faithful, on Catholic primary education in nineteenth-century France argued that religious teaching orders pioneered a system of schools that predated the one created by the French state. The research for that book made me aware of the resources available in the archives of religious orders as well as the role of women religious (aka nuns) in education, charity and mission work, leading to a second book, Civilizing Habits, on three women missionaries who travelled to destinations as diverse as the American frontier, the Mediterranean basin, and the French African and Caribbean slave colonies in the first half of the nineteenth century. In both books, I investigated the ways in which religious orders allowed women more freedom and agency than most laywomen experienced in the nineteenth century. I am now working on a book-length project on the "culture of childhood" during the second half of the nineteenth century. I teach courses on European social, cultural, and intellectual history, including gender, religion and empire, from the French Revolution to the First World War.
Selected Awards
National Endowment for the Humanities Summer Stipend 2018
Frances Richardson Keller-Sierra Prize (best monograph) from the Western Association of Women Historians, 2011 for Civilizing Habits: Women Missionaries and the Revival of French Empire
National Endowment for the Humanities Fellowship, 2007-08
American Association of University Women Postdoctoral Research Leave Fellowship, 2002
Fulbright Research Fellowship, France, 2001-02
Spencer Foundation Research Grant, Spring 1999
Esther L. Kinsley Ph.D. Dissertation Prize, Indiana University, 1994
Research Interests
19th-century France
French empire
Gender
Religion
Education and childhood
Selected Publications
Books:
Civilizing Habits: Women Missionaries and Revival of French Empire (Oxford University Press, 2010). 
Co-editor, Views from the Margins: Creating Identities in Modern France (University of Nebraska Press, 2009).  
Educating the Faithful: Religion, Society, and Schooling in Nineteenth-Century France, DeKalb: Northern Illinois University Press, 2000.  French edition: L'enseignement au temps des congrégations (Le diocèse de Lyon, 1801-1905), Lyon: Presses Universitaires de Lyon, 2003.
Selected Articles:
"Model Girls and Model Dolls in Nineteenth-Century France," French Historical Studies vol. 45, no. 1 (February 2022): 87-120.

"The (Play)things of Childhood: Mass Consumption and Its Critics in Belle Epoque France," in Childhood By Design: Toys and the Material Culture of Childhood, ed. Megan Brandow-Faller, Bloomsbury Academic Press, 2018.

"Out of the Cloister and Into the World," in Freedom and Faith: The French Revolution and Religion in Global Perspective, eds. Erica Johnson and Bryan Banks, Palgrave MacMillan, forthcoming.

"The Double Invisibility of Missionary Sisters," Roundtable on Gender and French Empire, Journal of Women's History, vol. 28, no. 4 (Winter 2016): 134-43.

"Writing the Lives of Saints: Archives and the Ownership of History." French Historical Studies, 40, 2 (April 2017)
"Blogging in the Classroom: Using a Blog as a Supplemental Resource" (with Jason Lahman and Brian J. Griffith), Perspectives on History vol. 50, no. 4 (April 2012), 20-22
"Charity Begins Abroad: The Filles de la Charité in the Ottoman Empire," in In God's Empire: French Missionaries and the Modern World, ed. J.P. Daughton and Owen White, Oxford University Press, 2012
"Emilie de Vialar and the Religious Reconquest of Algeria," French Historical Studies 29 (Spring 2006): 261-92
"Rester en France: Les congrégations et l'opinion publique, 1901-1905," in Le grand exil des congrégations religieuses (ed. Patrick Cabanel), Editions du Cerf, 2005, 169-82
"Charitable Ladies: Gender, Class, and Religion in Mid-Nineteenth-Century Paris," Past and Present 177 (November 2002): 121-56
Courses Recently Taught
Undergraduate:
Western Civilization
French Revolution and Napoleon
19th-Century Europe
Women in Modern Europe
European Intellectual and Cultural History since 1700
European Imperialism
Paris: Biography of a City
World War I: Social and Cultural Perspectives
Graduate:
France / North Africa
French Revolution and Old Regime
Class and Gender in Nineteenth-Century Europe
Culture and Society in the Belle Epoque
European Imperialism
Professional Service
Guest editor, special issue on archives and archival practice, French Historical Studies, vol. 40, no.2 (April 2017)
Histoire et Missions chrétiennes, Editorial Board, 2007-, Guest editor, special issue on women and missions, December 2010
David H. Pinkney Book Prize Committee, Society for French Historical Studies, 2009-10
French Colonial Historical Society 2009 Annual Meeting, Chair, Local Arrangements
H-France:  Forum editor, 2006-08; Book review editor, 2003-05
Other Links