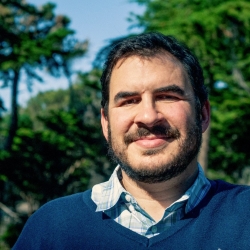 On Sabbatical Fall 2023
Phone: (415) 338-7537
Email: tgetz@sfsu.edu
Location: Humanities Building Room 461
Trevor R. Getz is a Professor of African and World History at San Francisco State University. His work focuses on history education – especially in the field of world history – as well as the social history of Africa. He is the author or co-author of eleven volumes, including Abina and the Important Men, which won the 2014 James Harvey Robinson Prize.  His work has been published by Duke UP, Oxford UP, Ohio UP, Bloomsbury, Prentice Hall, Westview, and James Currey.  It has also appeared in The American Historical Review,  The Journal of West African History, Slavery and Abolition, African Economic History, and Ghana Studies.  Trevor has also written produced a number of documentaries and historical films which have garnered festival prizes, and has held Visiting Professorships at Stanford University and UC Berkeley. He is the recipient of the American Historical Association's 2020 Eugene Asher Distinguished Teaching Award.
Education
Ph.D. History of Africa, University of London, School of Oriental and African Studies, 2000
M.A. History, University of Cape Town, 1997
B.A. History & Anthropology, University of California Berkeley, 1995
Research Interests
Gender, romance, marriage, and sex in African history
Slaving and dependency relationships
Colonialism
Community Engaged History
Methodology
Courses Recently Taught
Undergraduate
Teaching History with Comics
Modern Africa
Approaches to African Pasts
History of Africa
History, Society, and Justice
Graduate
Social and Cultural History of Africa
The Great Divergence
Selected Books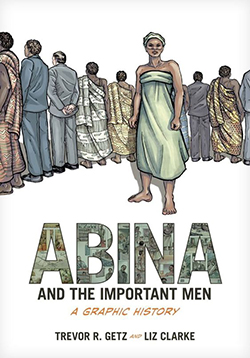 A Primer for Teaching African History, Duke University Press. (Forthcoming)
African Voices of the Global Past, to c.1500 - Present,Westfield Press. 2013.
African World Histories, Vol. II, Cosmopolitan Africa: 1700-1850, Oxford University Press, 2012.
Our World, Bridgepoint Press, 2012. (e-book, with Jon Brooke)
Abina and the Important Men, Oxford University Press, 2011. Second edition under contract, forthcoming, 2015.
Modern Imperialism and Colonialism: a global history, Prentice Hall, 2010. (With Heather Streets-Salter). Second edition to be published as Empires and Colinies in the Modern World by Oxford University Press, 2015.
African Histories: New sources and new techniques for studying African pasts. Prentice Hall, 2011. (with Esperanza Brizuela-Garcia).
Exchanges, vol.1:  A reader in global history to 1500, Prentice Hall, 2008. (with Jarbel Rodriguez and Richard Hoffman).
Exchanges, vol.2: A reader in global history 1500 – present, Prentice Hall, 2008.  (with Jarbel Rodriguez and Richard Hoffman).
Slavery and Reform in West Africa, Athens: Ohio University Press and James Currey, 2004. 
Editor, African World Histories Series for Oxford University Press
Feature Films
Abina and the Important Men.
Winner of the 2017 SF Black Film Festvial Prize for Animation
Winner of the BEst Animated Feature Prize, Animaze Montreal 2017
Selected Articles:
"The Marriages of Abina Mansah – escaping the boundaries of "slavery" as a category in historical analysis", Journal of West African History. (With Lindsay Ehrisman) 1 (2015), : 93-117.
"Towards an historical sociology of world history", The History Compass, 10 (23012), 483-495.
"The Case for Africans:  The Role of Slaves and Masters in Emancipation on the Gold Coast, 1874-1900" Slavery and Abolition, 21, 2000: 128-145.
'We should have maintained this unity, then there would be more development': lessons from a pop-up museum of the Fante Confederation" with  Tony Yeboah and Lindsay Ehrisman, History in Africa 46 (2019), 195-216.
"Getting Serious about Comic Histories," American Historical Review, 123 (2018) 1596-1597.
Selected Awards
Distinguished Faculty Award for Service, 2017
James Harvey Robinson Prize, 2013-2014
West African Research Association Fellowship, May 2013 – August 2013
Facilitating Research and Creative Work Grant, July 2010 – January 2011
Distinguished Faculty Award for Contributions to International Programs, 2009-2010
Fulbright Scholar Award, January 2008 – December 2008
Professional Service
Chair, SF State University Corporation
Editorial board, Journal of West African History
Former Vice-President for Teaching, H-Net
Advisory board, Longmore Center for Disability Studies
Advisory board, Metro College SF State
Former Chair, Academic Senate
Advising Board, Open Network World History
Other Links