Each year, we award the Shirley Barnett Memorial Scholarship to one or more students returning to school over forty years of age.
The scholarship is awarded in memory of Shirley Barnett, who left college in the middle of her sophomore year to start and raise a family. She returned to finish her B.A. when she was in her sixties, so in her honor, the scholarship's donor wishes to support the academic goals for those who have taken a less than traditional route to graduation.
Recipient: Amber Naeem
Shirley Barnett Memorial Scholarship
This year's recipient of the Shirley Barnett Memorial Scholarship is Amber Naeem.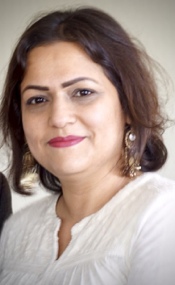 This year's recipient of the Shirley Barnett Memorial Scholarship is Amber Naeem.
Amber is a hardworking and dedicated student whose work is consistently excellent. In HIST 300, her nuaned and insightful research paper focused on Harriet Jacobs' slave narrative, Incidents in the Life of a Slave Girl, and several collections of her extant letters. Amber argued that while the book depicted many horrors of slavery, especially for women, it also presented Jacobs as an individual who empowered herself even while enslaved. Jacobs ingeniously repelled her master's sexual advances, chose her sexual partner and the father of her two children, plotted an elaborate escape, and eventually freed herself and her children. In the paper, Amber argues that a key factor in Jacobs' self-assertion was the extraordinary assistance provided by her freed grandmother and abolitionist friends. Amber utilized the collected letters to complement the narrative in documenting the many ways Jacobs' network provided support in slavery and in freedom. Once free, Jacobs became active in the abolitionist movement, in part through writing one of the few slave narratives to openly discuss the sexual harassment and abuse experienced by enslaved women.
Earning her B.A. this spring, we are thrilled that Amber will be joining our M.A. program in the fall. We are looking forward to all she will accomplish in the graduate program and beyond!